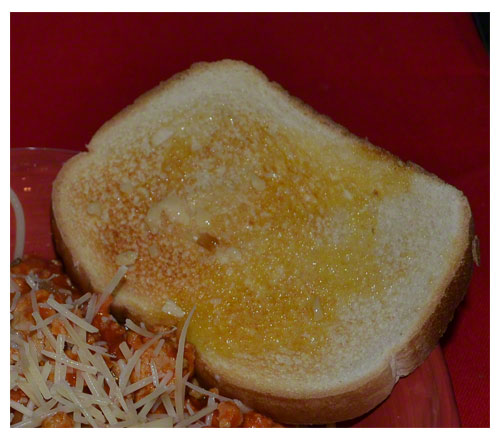 Start to finish in less than 5 minutes. We use Gilroy Farms Minced Garlic in this recipe because we find it has better flavor the chopped fresh garlic, it's creaminess makes it easy to spread, and there's no peeling and chopping required.
Melt 2 tbsp butter in a coffee cup by microwaving on high for about 15 – 20 seconds.
Add 1 to 2 tsp of Gilroy Farms Minced Garlic. Stir well. Let sit for 1 to 2 minutes.
Toast Italian Bread slices in your toaster. (Holsum Milano Italian Loaf bread in the bread aisle of your grocer works well).
Spread garlic butter mixture over the toasted bread with a knife or brush.
Butter/Garlic Mix is enough for 4 or more slices of Garlic Bread. Add some Parmesan cheese for extra flavor.