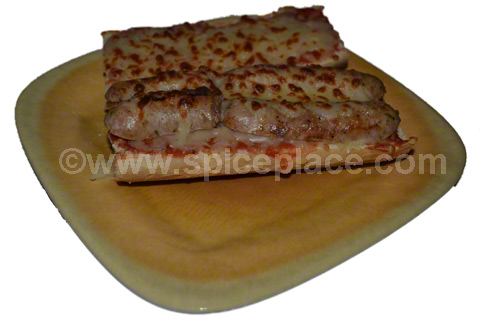 This is a "Go To" recipe of ours that we use on week nights when we don't have much time and want something tasty for dinner. We use Turkey Italian Sausage because it's low in fat and cholesterol. You could substitute a low fat regular Italian Sausage if you like.
Make the Spatini Tomato Sauce
2 tbsp Spatini Seasoning
1/4 tsp McCormick Italian Seasoning
1 (13 oz) can of tomato sauce
Blend the Spatini, Italian Seasoning, and tomato sauce together in a large bowl.
Stir well.
Microwave for 30 – 40 seconds to warm up. Stir again.
What you need to make this recipe
Turkey (or regular) Italian Sausage
Submarine Sandwich Rolls (some call these Hoagie Rolls).
Shredded Mozzarella Cheese
Spatini Tomato Sauce (above)
Making the Italian Sausage Sandwich (a.k.a Grinders)
Cook 2 Italian Sausages for each sandwich you will be making.
Preheat broiler.
Slice each sausage in half length-wise.
Spread the Spatini Tomato Sauce mix over both tops and bottoms of the hoagie roll.
Add 3 or 4 halves of the cooked Italian Sausage.
Top both sides of the Hoagie roll with shredded Mozzarella cheese.
Place on baking pan.
Broil until the cheese is melted and a little browned (caramelized).
Serve hot with baked French fries or cole slaw.