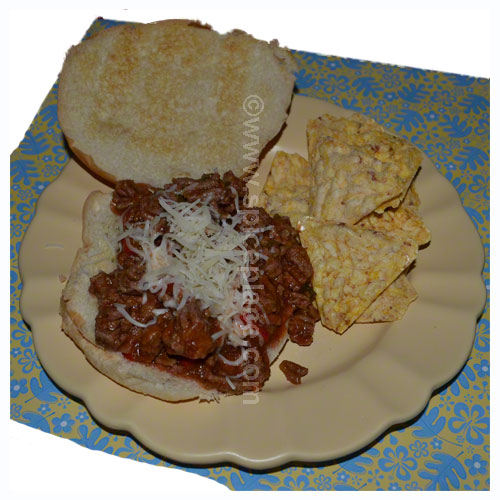 Spatini Seasoning adds a new taste to this recipe for the classic Sloppy Joe.
Ingredients:
1 lb extra lean ground beef
1/4 cup chopped scallions (green onions), tops and white bottoms
1/4 cup chopped sweet red pepper
1 can tomato sauce
1 tbsp Spatini Seasoning Mix
1 tsp sugar
Your favorite buns or bread
Provolone or mozzarella cheese, shredded
Parmesan Cheese, shredded
To prepare Spatini Sloppy Joes:
Brown the ground beef in a lightly oiled non-stick skillet, turning often and breaking up any clumps. Sop up any grease in pan with a paper towel.
Add green onions, and red bell pepper. Cook, stirring often, until onions are clear.
Add tomato sauce, Spatini and sugar, stri well and cook for 5 to 10 minutes, stirring often.
Toast your favor bun or bread.
Using a slotted spoon, place about 1/3 cup of Sloppy Joe mix on bun and top with Provolone/Mozzarella Cheese and a pinch of Parmesan Cheese.
Serve with potato or tortilla chips.