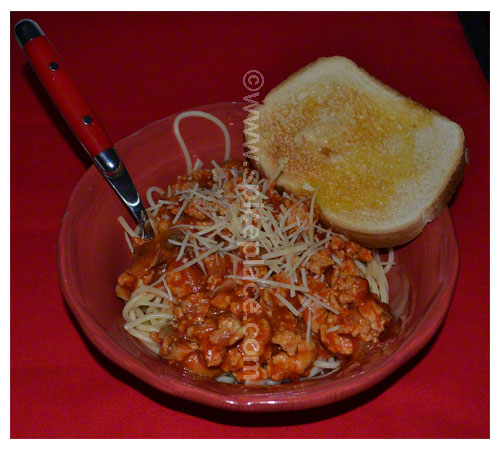 Delicious and healthier for you than a Spatini Meat Sauce Spaghetti made with ground beef, this recipe is ready to eat in 20 minutes. We use Gilroy Farms minced garlic because it's creamy smooth, has a strong garlic flavor and saves time.
1 Pound Lean Ground Chicken
1/2 cup chopped onion
1 small can of mushrooms, stems and pieces
1 1/2 tbsp Spatini SeasoningMix
1 15oz can lower sodium tomato sauce*
1/3 – 1/2 cup water
Parmesan cheese
Favorite pasta
Add chopped onion to a lightly oiled 3 quart non-stick sauce pan. Cook onions stirring frequently until onions become translucent.
Meanwhile, begin cooking your favorite pasta according to package directions.
Add chopped garlic, and continue cooking until onions begin to brown. Be careful to not burn the garlic.
Chop up the chicken well (otherwise the meat will stick together and become hard to separate).
Add can of chopped mushrooms, cook for 1 to 2 minutes.
Add the chicken to the pan, and cook well, stirring often, about 5 to 10 minutes.
Sprinkle the Spatini over top of the meat mixture. Pour in the tomato sauce and water. Stir well.
Cook for 5 minutes, stirring often.
Serve over your favorite pasta along with quick and easy garlic bread.
Makes 4 or more servings depending on serving size.
*Use lower sodium tomato sauce because there is plenty of salt in the Spatini