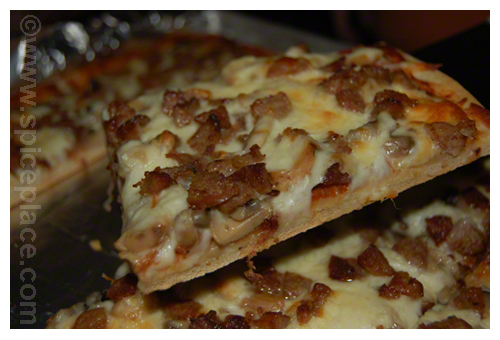 You have to have a ready to go pizza crust for this recipe. Make your own or use a store bought one.
1 1/2 tbsp Spatini Seasoning
1 tsp McCormick Italian Seasoning
15 oz can of tomato sauce
1/4 tsp sugar
Mozzarella Cheese 8oz or more depending on taste
1/2 tbsp Parmesan Cheese
4 oz can mushrooms stems and pieces (optional)
1 prepared pizza crust
Meat topping, if desired. Shown with low fat Kirby and Holloway Sausage.
Mix the Spatini Seasoning, Italian Seasoning, tomato sauce and sugar together.
Spread the seasoned tomato sauce over the prepared pizza crust.
Spread mushrooms evenly over top of pizza
Top with Mozzarella Cheese. Top with Parmesan Cheese.
Bake at 400° F for 15 to 20 minutes, until cheese is melted and bubbly.
Let cool for a few minutes, then slice and serve.